Location and project type
Lighting control in Teatro Calderón in Valladolid, Spain.
Description
Teatro Calderón is a theater in Valladolid (Spain), named after the Spanish poet and playwright Pedro Calderón de la Barca. The theatre opened in 1864 with a performance of Calderon's play "The Mayor of Zalamea". It is located in the historic heart of the city, on the former grounds of the Admiral of Castile's palace.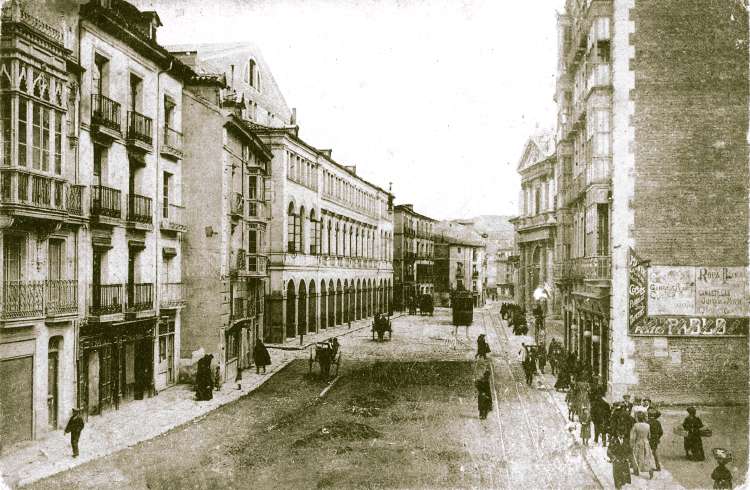 Teatro Calderon, early 20th century (Photo: Fundación Joaquín Díaz)
Over the years the Calderón experienced ups and downs. In the 1990s a major renovation was undertaken. The large chandelier installed in the auditorium was one of the main highlights: Designed by the Real Fábrica de Cristales de La Granja in San Ildefonso, it weights more than 1000 kg, has a diameter of 3 meters, and is composed of 30000 pieces of glass.
Reopened in 1999, the Calderón is now the main theater of Valladolid, and it has been considered one of Spain's most important theaters, due to its size and majesty. Its stage has been used by some of the finest national and international theater and dance companies, and it is also the permanent home of Seminci, the Valladolid International Film Festival.
In this project, the company APControl was tasked with the job of redesigning the whole lighting system of the building, which includes about 300 light spots.
First of all, the whole lighting system has been revamped using LED technology, achieving significant energy savings. Additionaly, the light spots in the main hall have been grouped in "zones": Stage, boxes, balconies, and central lamp over the auditorium.
Light regulation is implemented with ABB lighting actuators. Visualisation and control of the entire system is done through an Iddero HC2-KNX touch panel installed in the control room. The main functions of the touch panel are the following:
Direct control of the light spots, both individually and by groups or zones. It is possible to control state, brightness level, and dimming speed. The touch panel also makes it possible to define and edit lighting scenes, so that both the maintenance staff and the technicians in charge of each performance can create and test all kind of lighting setups in an easy and intuitive way.
The integrated web server built into the Iddero touch panel allows the technicians to operate the lighting system from any place in the main hall through a tablet; no need to go to the control room. This is especially interesting when configuring scenes, as it makes it possible to perform any changes and check the results "in situ" from the auditorium or from the stage.
Finally, a push button keypad equipped with status LEDs has been installed on the stage, allowing the technicians to quickly and easily activate the scenes defined in the touch panel.